Background
Under Article 9 of RSPO's Statutes, RSPO shall be managed by an Executive Board comprised of sixteen members, designated by the General Assembly for a period of two years. The Executive Board members can be re-elected. The allocation of seats for the various sectors of membership.

The First Executive Board was elected at the inaugural General Assembly held on 6 October 2004.Through staggered voting, within each sector, half the Executive Board is re-elected every year, at the Annual General Assembly of members of GA. When a seat is due for election any member in good standing from the particular sector may offer themselves to be elected. Incumbents may offer themselves for re-election or may continue if there are no nominations within their respective categories for the EB seats.
| | |
| --- | --- |
| Sector | Number of Seats |
| Oil Palm Growers | 4* |
| Palm Oil Processors and/or Traders | 2 |
| Consumer Goods Manufacturers | 2 |
| Retailers | 2 |
| Banks / Investors | 2 |
| Environmental/Nature conservation NGOs | 2 |
| Social/Development NGOs | 2 |
*One representative each for Malaysia, Indonesia, the smallholder sector and the "Rest of the World"
The EB meeting, at its first seating after the General Assembly, will elect, among themselves, the office-bearers of the organisation, until the next General Assembly of members.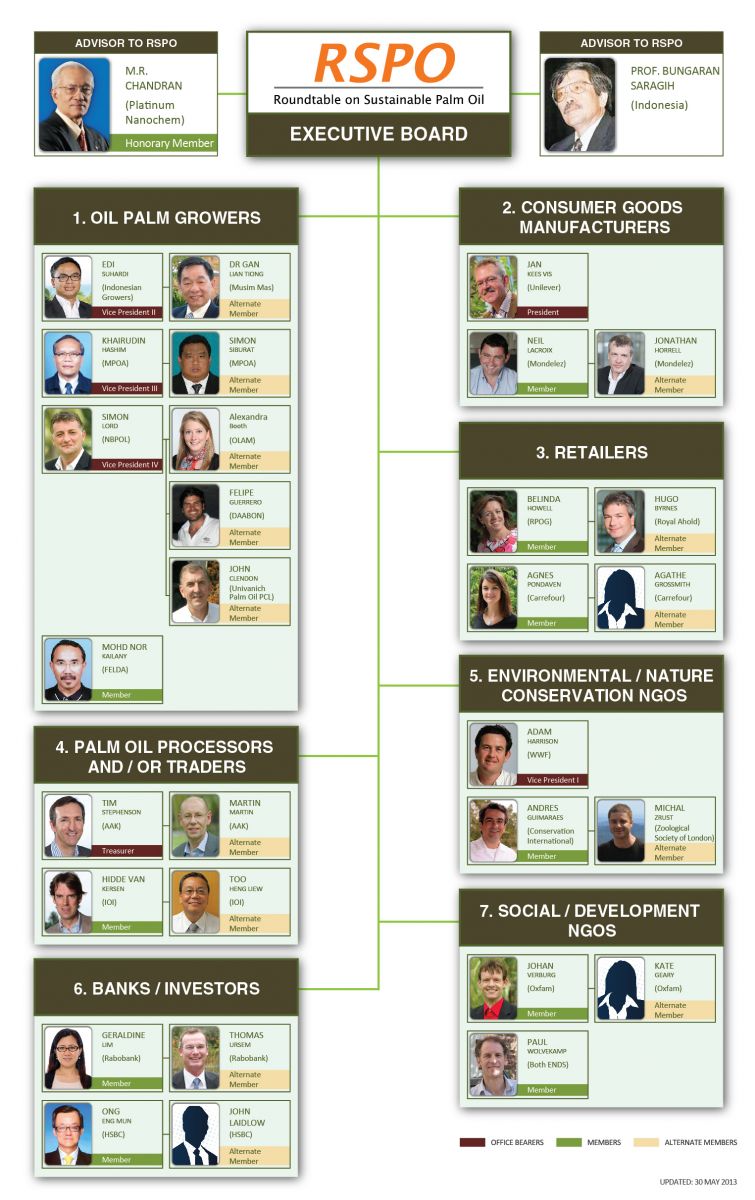 ** Click to download
Executive Board Members & Alternates
(pdf format)